We value our patients' experience at Marshall Chiropractic. If you are currently a chiropractic patient, please feel free to complete the following Client Experience Questionnaire. The Questionnaire is in Adobe Acrobat format, and requires the free Acrobat Reader to view.
Download & Print Questionnaire
Dr. Stacey Marshall
Your Oyster Bay Chiropractor
---
I met Dr. Stacey Marshall at the annual Oyster Bay Oyster Festival. I had just given birth to twins and was still having a lot of back pain. Prior to my pregnancy, my back pain was still present but every Doctor that diagnosed me told me that there was nothing wrong with my back. I was always very scared of going to a Chiropractor. So, I finally got the courage to go and it turned out to be amazing! Every time I leave the Chiropractors office, I feel so much better -- like I can run a marathon! I still have a long way to go on my treatment but I already feel like a million bucks! If you are scared or if you are not too sure, all I can say is give it a try. You will thank me that you went!
Dr. Stacey Marshall is very nice and she always gives you a heads up on what bones she is about to adjust. She is also very gentle and always pays attention to you. She wants to make sure you are comfortable at all times. Dr. Ross Ginsberg is awesome. He is efficient as efficient can be with bending and adjusting. He is always so nice and polite. He is extremely personable, has hands like a ninja and will adjust you like its second nature! Dr. Timothy Cullinan is like the papa bear of Chiropractors. He clearly knows what he is doing and he just does it! He will adjust you and you will walk out of there feeling like you are flying!
They are ALL great!
I also bring my twins to get adjusted and they love it. It actually helps them sleep better at night especially after they just received a shot or vaccine from their Pediatrician. For some reason, getting an adjustment makes the crankiness go away!
Fun fact -- I suffered with constipation for over 6 years and tried everything to fix it. I used to go to the bathroom maximum 1 or 2 times a month! I tried medicine and different diets but nothing actually worked. From day one after I visited the Chiropractor -- I started go to the bathroom EVERYDAY! It was like a miracle and made me so happy!
So long story short, I love this place! After having back pain for such a long time and being pregnant with twins -- it really messed up my back. I'm feeling so much better after going to Marshall Chiropractic!
- Barbara Pessanha
---
I am forever grateful to Dr. Stacey, Dr. Tim, and Dr. Ross for their expert diagnosis and treatment through many years. They have kept me going in spite of my inclination to slip on the ice, move furniture around a room, and carry way-to heavy bags…Then their role became even more significant with my husband's cancer diagnosis. Weekly chiropractic adjustments gave him the strength needed for a difficult protocol and I had the energy for very challenging times. I feel truly blessed for the great care and concern of everyone at Marshall Chiropractic.
- Pat Leskowicz
---
Dr. Marshall and Dr. Ross both adjust me and it is great. I came to them because I had back pains and sinus problems. Dr. Ross does my sinuses and Dr. Marshall does my back. They are really helpful and both problems have gotten better over the time I have come. Thanks so much.
- H. Cohen
---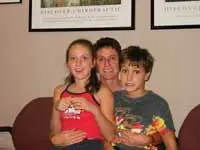 Friends had told me about the benefits of chiropractic care, but I was skeptical, until a couple of months ago. I was at the end of my rope and did not know where to turn for help. My son, Nathaniel, was getting out of control and I did not know how to help him. He frequently showed all the signs of AD/HD (attention deficit/ hyperactive disorder), but I was hesitant to medicate him. That would definitely be the last resort, but probably not even then. I had taken him to neurologists and psychologists, and was getting nowhere fast. Then, I brought him in to Marshall Chiropractic where he was examined, and the chiropractic philosophy was explained to me. Finally, it made sense to me that Nathaniel could not control his behavior due to the fact that he was completely out of alignment. Nathaniel responded immediately to Dr. Stacey, he loved being adjusted and after his very first visit, his behavior changed. That afternoon, we came home and after hanging up his coat, Nathaniel got his backpack and sat right down to do his homework- a task that was a regular nightmare. He did it without persuasion, without getting frustrated and beating himself down, and it was all correct and neat!! And I am happy to say that this is the way it has gone ever since. He also seems to be less easily distracted and able to focus on the task at hand. He is still a 7 year old boy and very prone to "boyish" behavior, but that's one of the joys of having a son. About a week or so after regular adjustments, Nathaniel's teacher called me to ask if there was something different I was doing with Nathaniel. She said his behavior in school was exemplary and so different from the past two months that she had to know my secret. When I told her it was the chiropractor, she was astonished. She is so impressed with the change in our Nathaniel that she recommended that his special education services be cut back. Nathaniel is no longer pulled out of the classroom to work with the special education teacher; she pushed into the class to help if needed, but couldn't wait to tell me that she rarely helps him. He is doing great in school, and in fact, calls himself a mathematical genius! I am so very proud of him and have to admit that his chiropractic care has made a world of difference in his life. My daughter, Ana, and I have also joined the bandwagon and get regular adjustments. We're all feeling happy and health, and in control. So, keep up the good work- and thanks from the bottom of our hearts.
- G. Szymkowitz
---
I first became acquainted with Marshall Chiropractic through a newsletter from a co-worker. The main article talked about headaches; what causes them and how to avoid them. This caught my attention because I have suffered with Migraine headaches for most of my 39 years. Having never been to a Chiropractor before, I was skeptical as to whether or not they would be able to help me, and nervous about how experienced they were. By the end of my first visit I felt completely comfortable with Dr. Stacey and her staff of doctors. A combination of the introductory video and her personal experiences with chiropractic convinced me that I had come to the right place.

Within 2 weeks of getting adjusted, I can honestly say I could not remember when I got my last headache. And while they are not completely gone YET, I might only get one or two a month, whereas before I was getting adjusted I had them daily.

Dr. Stacey and Marshall Chiropractic not only helped me with my headaches, but also suggested ways to decrease stress and change my diet in a way that will help me to live a more healthy life. The staff is extremely friendly and adds to an already warm and professional environment. I strongly recommend them to all my friends.

- C. Perkins
---
My mom, my daughter and I have been coming here for about a year. When we started my daughter Kelly was having a lot of trouble with her asthma. She is doing so much better now. I was having headaches all the time and lower back pain. I still get headaches but not as bad and my lower back pain is all but gone. My mom started coming here when she fell and hurt her neck but since she started coming she feels better in lots of ways. She has less pain and more energy.
- L. Thompson
---